What was the postage rating of this domestic cover?
From Postage Rates of China 1867-1980 by Pingwen Sieh and J. Lewis Blackburn, Directorate General of Posts, Taipei, Taiwan 1981. 5. MONGOLIA AND SINKIANG POSTAGE RATES, page 15 - 16:

5.2 SINKIANG (meaning "New Dominion", or Chinese Turkestan): The northwest terminus of the Chinese Post Office in 1909 was Lanchow, the capital of Kansu province. Postal service from Lanchow to Tihua (Urumchi) capital of Sinkiang and within Sinkiang was operated by the government courier service (I-chan). In the 3rd moon of the 1st year of Hsuan Tung (1909), the Governor of Sinkiang requested the Chinese Government to open the area to postal service. At the end of that year the postal route was extended from Kiayukwan in Kansu Province to Tihwa, a distance of 3,100li (around 1,000 miles). By the end of 1910 the Sinkiang Postal District with Head Office at Tihua consisted of 16 offices and 20 agencies with nine interconnecting routes.


......


5.3 POSTAGE RATES: Postal rates for these areas first appeared in the Tariff Remarks of Tariff Notification No. 47 of August 5, 1910. They stipulated:


... ... Postage rates to, from, and within the province of Sinkiang were:


All classes of mail matter to and from places within the provoce of Sinkiang are to be franked at domestic rates.

All classes of mail matter from Sinkiang to places in China, and from places in China to Sinkiang, dispatched via Kansu, are to be franked at double domestic rates.

All classes of mail matter from Sinkinag to foreign places and places in China to Sinkiang, dispatched via Siberia, are to be franked at international rates.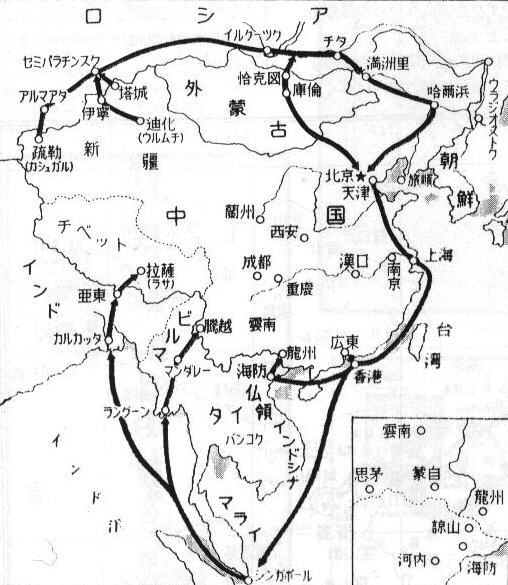 Map source: Meiso Mizuhara's Selected Philatelic Essays on China
Owing to the geographic location, it was very time-consuming to dispatch on horseback by Post-ridars via Kansu, mail matters from or to Sinkiang used to be sent abroad by way of the Trans-Siberia Railroad, and the Chinese Eastern Railway via Harbin. According to above-mentioned Tariff Notification No. 47 of August 5, 1910, domestic mail matters dispatched via this route needed to pay international rates. In the collection of Dr.Yasoichi Nakajima, SINKIANG POSTAL HISTORY 1894-1950, we saw a cover from Tihua to Peking sent via the Trans-Siberian route that bore a wooden chop insctibed 由俄國轉 in Chinese (Via Russia), franked at international postage rate with no Russian transit postmarks. Although there was no "Via Russia" chop on the cover in question, from the franking, 10c for international letter rate and 20c for international double registration fee, we can tell it was the same kind of mail matter. Regarding the missing of Russian transit postmark, it is assumable that the Chinese Office sorted mails and put all inland China-bound articles in separate mailbags, so there was no need for the Russian Office to check and sort when boarding the Trans-Siberia trains.